Workshops
Inspiring children to explore their imaginative potential
We invite children to experience the joys of creativity and collaboration, while developing their critical thinking skills.
Our workshops are designed for early childhood, primary and specialist schools, as well as festivals and events. Sessions can run from 45-120 minutes to fit into class timetables, or longer sessions in residence across a week or a term. We can also work with educators to connect with specific topics or subjects.
In all of our workshops, our experienced artists give children attention and respect. Through a creative exchange built on trust and fun, children understand that their contributions are valid and interesting, and can be part of something bigger than their own classroom, school or community. In return, our artists gain the benefit of the children's insight and energy, and the opportunity to challenge their preconceptions of what children think and how they act.
Polyglot's workshops tailor creative participation to individual children, and our artists ensure an accessible, safe and welcoming space for all. We work to facilitate each child's understanding of their place and power in the imaginary world they are helping create, whether it is developing a personal narrative, or using their senses to engage in the environment around them.
We also offer professional development workshops for artists and educators. These focus on how to work with Polyglot's child-led methodology in creative spaces and classrooms.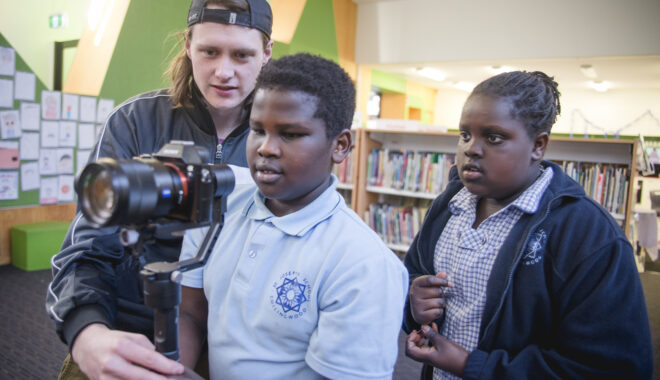 5678 Film Club Education Resource
Drawing on filmmaking processes used by Polyglot Theatre's 5678 Film Club team, this resource is designed for students who want to tell stories, to collaborate, to be creative, and to do so through filmmaking. Its development was generously supported by the Newsboys Foundation.
Download resource
Educations News Articles
2021
2020
2019
2018
Thank you
Polyglot Theatre's school workshop program is proudly sponsored by Lucas Dental Care.