Show
Ants
Ants is an interactive performance which brings children together to explore the landscape around them.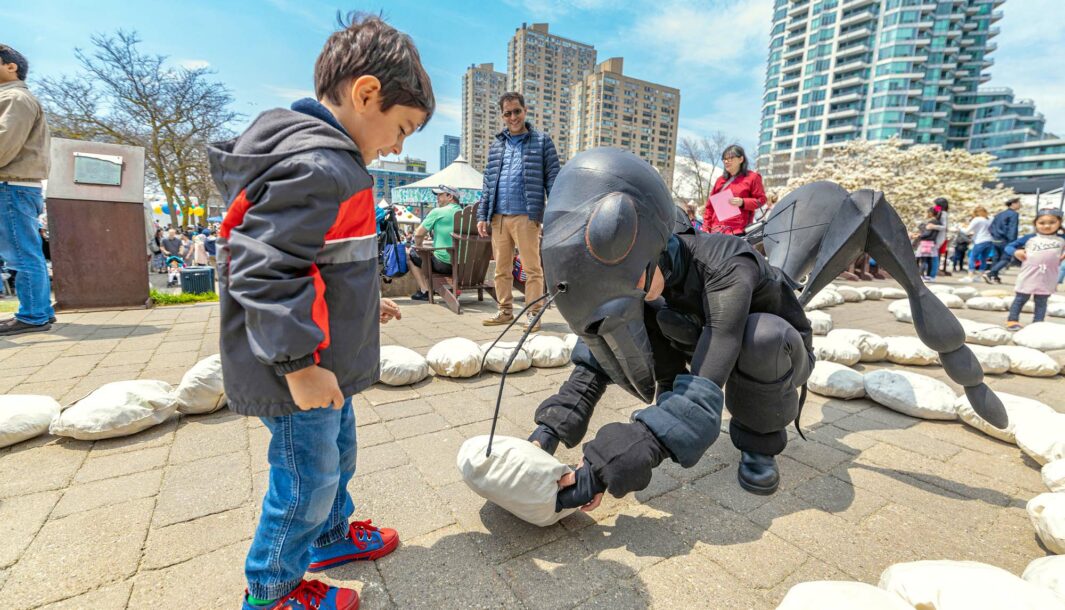 Ants as big as humans work together intently, collecting and placing hundreds of giant bread crumbs, and children are irresistibly drawn closer to find out how they can join in. Gradually a world of meaning unfolds, with children's movement making lines and patterns, transforming public space and disrupting the everyday. Children choose how they interact with the big insects, becoming Ant-like creatures themselves and taking part in their world. This is an enchanting and unusual experience that everyone can enjoy at their own pace.
"It made you think deeply at little things." Audience member aged 10
Accessibility
Ants

 is a universally accessible experience. The performers do not use spoken language – there is no English language barrier. 

Children and families choose how they engage with the performers and the space, moving around as they like.
Acknowledgements
Ants was originally commissioned by Fed Square and premiered in 2012.
Watch the trailer
I had the most delightful experience with the Polyglot team. Everyone rallied together to produce a wonderfully enchanting production for our patrons. Your team brought great enthusiasm and professionalism to each performance… I hope to work with you again in the future.

Madison Square Park Conservancy, USA

The Ants team was a joy, and the children who participated loved it (I know because my own daughters had the pleasure of scampering around with them).

Ann Arbor Summer Festival, USA
Contact
Got a question about Ants?
Other shows
Find a Polyglot show for your venue, festival or event.
Explore shows