Polyglot People
Polyglot's strength lies in our people – our Board, our Staff and our Artists.
The company works with a co-CEO model of Artistic Director and Executive Director, who lead a multi-skilled staff. We have an expert Board of Directors and an informal ensemble of highly skilled freelance artists who deeply understand the company's artistic approach and ethos. We call this group the Generator.
Close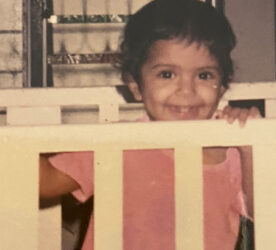 Sunari Sooriaaratchi
Marketing and Access Coordinator
To Sunari, nothing is more meaningful than creative ideation and bringing creativity to children. It is here that Polyglot's ethos and her passions align.
She has worked with the Sri Lanka Broadcasting Cooperation since childhood and continues to present with Channel 31 in Melbourne today. Advertising took her to work with Saatchi & Saatchi and the Malaysian Royal Family. Her love for art led to her Bachelor of Fine Art with Monash University and work within the Faculty. Through owning and operating galleries and a theatre, she has curated many exhibitions and has assisted performers, artists and directors with bringing their visions to life.
Bringing art to young audiences and making creative experiences accessible is something Sunari sees as imperative. When she is not at Polyglot, she heads her own art gallery, Gallery Sunari and an art school for children, Australian School for Creative Arts.
Close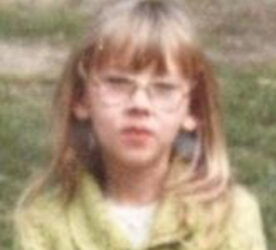 Julie Wright
Producer
Julie's connection with Polyglot spans nearly 20 years. She began as a volunteer, then completed her internship in 2004 while studying Stage Management at the Victorian College of the Arts. She was a freelance stage/production manager for the company before joining the staff in 2011.
Julie's greatest Polyglot joy is the people: how we involve and delight children and families from development to performance, and collaborating with artists and staff. Her passion is producing new work – pulling all the moving pieces together to create remarkable theatre. A highlight was Cerita Anak (Child's Story), Polyglot's collaboration with Papermoon Puppet Theatre, and touring the Helpmann-nominated show back to Yogyakarta.
In 2021, Julie worked as Creative Producer at ArtPlay, furthering her knowledge and expertise in delivering and presenting arts experiences for children and families. Prior to joining the Polyglot staff, she also worked at Melbourne Festival, Melbourne International Comedy Festival, the Commonwealth Games, and on many independent productions.
Close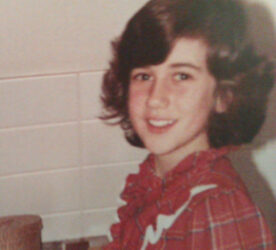 Dan Goronszy
Performing Artist, Workshop Facilitator
Dan creates unusual arts experiences that provoke wonder and conversation about humanity, towards social change. She is multi-disciplinary; drawing on participatory installation, live art, puppetry, public art, social practice and visual theatre. She joined Polyglot in 2016 and has been lucky to work with children, families and artists all over the world.
Dan enjoys playful, challenging and moving installations that gently subvert recognised rules of the public arena. She actively pursues flipping child/adult dynamics in public space, proposing elevation of the child's status, visibility and creative decision making. She investigates the world by exploring alternative narratives of people and place, beyond the obvious or expected.
Dan is co-founder of Hello Togetherness with Alex Desebrock (WA) making big thinking arts experiences for households to do together at home and make connections to their neighbours. She received her Masters of Art in Public Space at RMIT (2018), graduating on the Vice Chancellors Awards List.
Close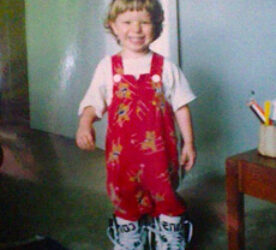 Zak Pidd
Performing Artist
Zak is a Melbourne-based performer and sound designer who frequents the stage as actor and musician, preferably at the same time.
In 2016, they were the musical director and composer for Vanishing Act which won Best Cabaret at Melbourne Fringe, and was nominated for four Green Room Awards, including Best Musical Direction.
Other acting credits include Daniel Schlusser's Schmaltz (Malthouse Theatre), (in)tent by Kat Moritz (Melbourne Fringe 2016) and the world premiere of Credentials by David Williamson, for which they also designed the sound (La Mama 2017).
Their film credits include Prasizzler Queen of the Dessert, and the award winning Tasty.
In 2015, Zak graduated from the Victorian College of the Arts with a Bachelor of Fine Arts Theatre Practice.
Close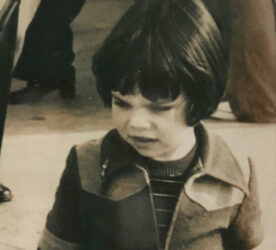 Steph O'Hara
Sound Designer
Steph creates flexible and responsive artworks that connect and engage through sound and participation. He is deeply interested in inclusion, public engagement, and interactive and immersive experiences for all audiences.
Steph's practice centres on the intersection between art and technology. His multi-arts sound and visual based work includes contemporary music, sound design for performance and interactive/participatory art, as well as web/audio design and creative coding.
For him, Polyglot is a place to dream big, explore and discover new imagined worlds to play in. He loves collaborating with children to create magical experiences for everyone to enjoy, and is constantly learning from their fresh perspectives, new and innovative ideas, and playful approach to life.
Steph has also worked with numerous other companies including The Flying Fruit Fly Circus, ILBIJERRI and Big hART. He is a La Trobe University graduate.
Close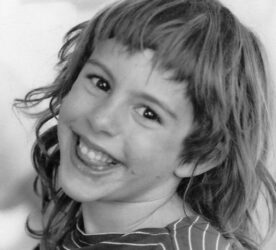 Sylvie Meltzer
Performing Artist, Workshop Facilitator
Sylvie is a teaching artist, workshop facilitator and performer with a focus on participant-led and devised theatre and community theatre. With a background in theatre making and drama education, she has spent the past 15 years working with children in India, China and Australia, using creative arts and performance to foster relevant and meaningful conversations to be taken out into everyday life.
Sylvie finds so much joy in all the Polyglot worlds she exists within – whether it be the forests of Paper Planet, the banquets of Feast or the magic of Voice Lab. She likes to imagine herself as an arty sponge – soaking up all the brilliant possibilities that working with lots of different people (especially children!) brings.
Sylvie is also the Creative Director at Satellite Foundation, a not-for-profit organisation that works with children and young people where a parent has a mental illness or mental health challenge.
Close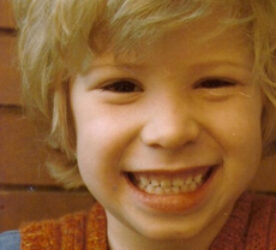 Mischa Long
Designer, Performing Artist
Mischa has worked at Polyglot since 1996, first making sets and props before performing in shows such as Tadpole, Almost A Dinosaur and Checkout. In 2000, he relocated to the United Kingdom to build large-scale sets, developing the skills he would then transfer to the wonderfully malleable medium of cardboard upon his return.
Working closely with the Polyglot artistic team, Mischa has been integral to the the development, design and installation of shows such as We Built This City, Sticky Maze and Paper Planet.
He is also a teacher in the Special Development sector, creating art programs for students with disability. This has led to him co-creating inclusive versions of Polyglot works and delivering professional development workshops for other practitioners.
He believes strongly in the power of the arts to create opportunities for discovery and communication, transcending barriers of language and perceived ability. Performing and working with children has informed his techniques and ideas, placing their creativity at the centre of his work.
Close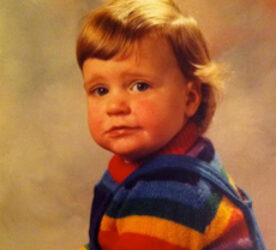 Lachlan MacLeod
Performing Artist, Workshop Facilitator, Musician, Videographer
Lachlan has worked with Polyglot since 2008, forging beautiful and rewarding connections with artists and children at home and across the globe. He has swum in deep seas of Tangle, built countless cities from boxes, made towering mountains and winding patterns with crumbs as a giant Ant, and turned up the volume on kids voices far and wide through Voice Lab.

Outside of Polyglot, Lachlan produces videos and music for various arts companies including ArtPlay and Melbourne Fringe. In 2019, he puppeteered a giant dancing crab and marine iguana for the premiere performance of The Waterhole, based on Graeme Base picture book, at Melbourne Zoo's Neon Playground, and took the helm of A Blanck Canvas' The Guardian, a giant crystal lion, for its world premiere at White Night 2019.
Recently, Lachlan has been touring the country as Australia's favourite Dad, Bandit, in the stage spectacular Bluey's Big Play, which he helped develop with Windmill Theatre's Rose Myers.
Close
Emily Tomlins
Director, Performing Artist, Workshop Facilitator
Emily is co-founder and co-artistic director of the award winning independent theatre company Elbow Room. She has worked as an actor, creator, collaborator and director with various companies and festivals across Australia. Her acting credits include productions with Elbow Room, Voice In My Hands and Queensland Theatre, Sydney Theatre Company and State Theatre Company South Australia. Emily was part of the Queensland Theatre Emerging Artist Ensemble in 2006 and in 2017 she was awarded a Sidney Myer Fellowship.
Working with children is one of Emily's greatest joys and privileges. She loves the spontaneity and the moments of pure imagination that comes from collaborating with young people. It has changed every part of her own artistic practice.
Close
Blayne Welsh
Writer, Theatre Maker
Blayne is a First Nations (Wailwan) theatre maker, playwright, director, devisor, facilitator, storyteller and performer. He has worked both locally and internationally since 2015, from black box theatres to schools, from footy fields to prisons. He is most interested in the ways applied theatre, story and drama can be used to facilitate connection to country, empower communities, strengthen culture and most importantly, heal. Blayne completed his Bachelor of Arts degree with Honours in Theatre and Drama at La Trobe University, and in 2019 was awarded a Fulbright Postgraduate Scholarship to study in the United States.
Close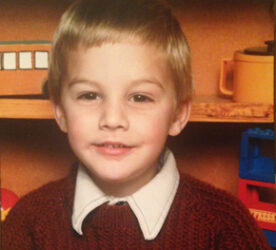 Glen Walton
Sound Designer, Performing Artist, Workshop Facilitator
Glen is a performer, writer, theatre maker, artist, musician, academic and all-round DIY tinkerer. He is the Artistic Director of Playable Streets, an innovative digital arts company that engages and re-connects communities through collaborative art in public spaces. He is also a founding member of The Suitcase Royale, whose unique blend of music and 'Australian Gothic' narratives has accrued critical acclaim worldwide.
Glen completed his Masters at the University of Technology Sydney, studying interactive technologies in children's theatre. He is most interested in collaborative arts processes, both in creation and performance.
Glen's work with children has taught him new ways to think about creativity as they bring a creative outlook to everything they do. His most surprising career highlight was in Texas with Polyglot's We Built This City – while the artists were packing up, two kids climbed inside a huge cowboy hat made from boxes and ran around the park!
Close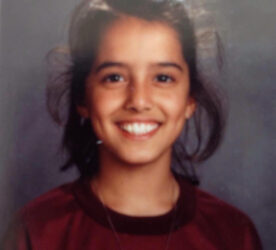 Afsaneh Torabi
Performing Artist
Afsaneh is a performer, maker and collaborator working across theatre, live art and installation. Her work is sensory-led and explores the intersection of myth, ecology and the body in the making of immersive, intimate and participatory art experiences.
Majoring in sculpture at Swinburne and Monash Universities, she went on to study and work with renowned teachers across the globe in diverse performance practices, finally gaining a Masters of Sensory Theatre with the University of Girona, Spain.
At Polyglot, she enjoys making shows that celebrate what children do best; use their imaginations and all their senses to explore, play and co-create the world.
Close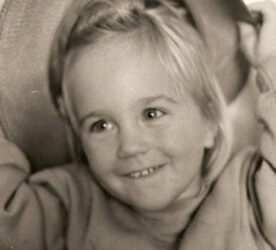 Ashlee Hughes
Performing Artist, Workshop Facilitator
Ashlee finds great joy in seeing children leading artmaking and storytelling. She loves how this connects them to their wider community, and allows these communities to appreciate children as creators. Working with children has taught her how to be 'in the moment' – they take wonderful and creative risks, often veering in unexpected directions.

With a background in nature education, Ashlee is interested in arts practice that connects children with landscape and environment, as well as storytelling and space making. A Polyglot highlight was seeing the kids of Rumbalara Football Netball Club welcome their community to the grand opening of Rumba Town – a magnificent cardboard model town created over weeks of workshops.

Ashlee studied at the Victorian College of the Arts. She has worked on Scenes on the Yarra, a project that connects people with their local waterways through performance, and The Living Stage, a recycled, growing stage space presented at Fed Square and Lorne Sculpture Biennale.
Close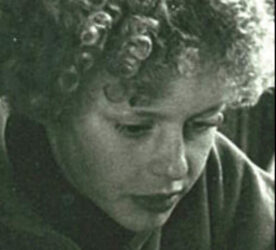 David Pidd
Performing Artist, Workshop Facilitator
David's been working in children's theatre for over 40 years – he's performed for hundreds of thousands of kids and filled them with laughter and cheers!
One of his first shows was called Juicy Fruit Follies, where he juiced a whole lot of oranges. And over the years he's played so many characters he's lost count of costume changes.
From Mr McGee and The Biting Flea and a uke-playing Belinda the cow. At Patch Theatre they turned Pamela Allen's stories into an all singing musical show!
David loves working at Polyglot where kids play a ginormous part. Their creative ideas, their curious brains, it's kids' art that fills up our hearts!
Close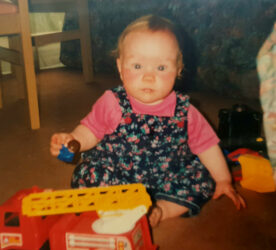 Hannah Murphy
Designer, Production Manager
Hannah started working with Polyglot in 2015 as a production assistant and maker. Now a designer and production manager, you'll find her driving around in big trucks, building forests out of cardboard and occasionally following giant Ants up escalators.
Hannah attended the Victorian College of the Arts, graduating in 2015 with a Bachelor of Fine Arts (Production Design Realisation). In 2019, she designed Mad as a Cute Snake at Theatre Works, for which she received a Green Room Award nomination. In 2020, she worked with ILBIJERRi and Te Rehia Theatre on Black Ties, and Satellite Foundation on It's A Mad World.
Hannah's strangest career moment was operating the lights for a show underground at Arts Centre Melbourne with 10 babies as the audience (Only A Year by Sarah Austin). Being a constant witness to kids creating has taught her not to overthink when it comes to her own practice.
Close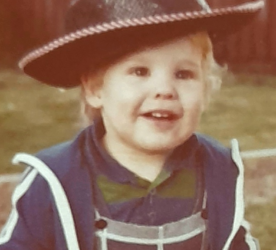 Justin Marshall
Musician and Sound Designer
Justin loves discovering new sounds and all the infinite ways of playing and making things with them. He builds instruments, records things and makes music. He started out playing pots and pans in the kitchen and hasn't really stopped – his school reports were invariably dotted with comments like, 'lovely student but at times noisy.'
Eventually, by some stroke of luck, Justin found his way to the Victorian College of the Arts in 1998 to study as a percussionist. Following this, he has enjoyed working as a sound designer, sound engineer, musician, performer, composer, and teacher.
Since 2005 he has been involved in the development and performance of many Polyglot shows including Tangle and Manguri Wiltja. Other recent work for children includes Sound Capsule with Aviva Endean (2021) and Wayfinders with Jess Wilson (2021). Justin also performs in many bands including Emma Donovan and The Putbacks.
Close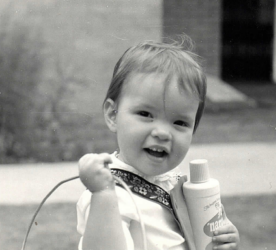 Katrina Gaskell
Designer, Workshop Facilitator
Having learned from Handspan Theatre artists more than two decades ago, Trina has worked for companies including ILBIJERRI, Melbourne Workers' Theatre, and Moomba Festival, as well as Polyglot Theatre. In 2021, projects included Polyglot's LINK, and puppet making for students at Concord School as well as David Woods' THIS for Rising Festival. Trina is a co-creator of Bonkel Theatre, which creates new puppetry work, together with musician Enio Pozzebon. During lockdown, the company created work for The Victorian Seniors' Festival, Moreland Libraries, Melbourne Digital Fringe 2020, and Melbourne Festival of Puppetry 2021, with a new work to premiere in 2022.
With Polyglot, Trina works with other artists and kids to think of ideas, and how these can be developed into enjoyable, engaging, and challenging shows for children. Sometimes she also designs how a show will look or makes things that will be used in a show.
Close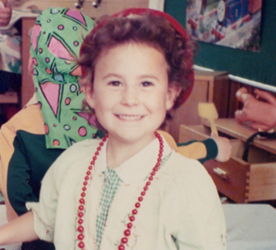 Morwenna Schenck
Designer, Production Manager
Morwenna is an artist, designer and production manager based in Naarm (Melbourne) creating work for performance and experimental arts. Her practice encompasses illustration, drafting, construction and production management. She has delivered projects across various creative industries in both creative and production roles for theatre, festivals, televised events, galleries, exhibitions and public art.
Morwenna has worked on a number of projects exploring perspectives on climate and ecology. Projects include Duty of Care presented in ACCA's exhibition program Who's Afraid of Public Space? and theWay-theWater-theWalk in collaboration with Punctum Inc and presented at Castlemaine Art Museum.
Morwenna has found great joy in being part of Polyglot's collaborative creative practice with children. She is constantly inspired by the imaginative solutions, new perspectives and artistry that children offer and is grateful for how these experiences invigorate her arts practice.
Close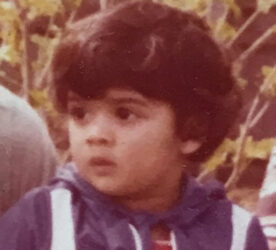 Sonya Suares
Performing artist
Sonya is a multidisciplinary performer, dramaturg, director, producer and arts activist; she has worked across film, television and theatre since her screen debut at 16. Film credits include My Year Without Sex, and television highlights include Lowdown and Very Small Business. In 2012, she founded acclaimed Sondheim repertory company Watch This, realising a body of work from Pacific Overtures to Sunday In the Park with George, with many more in between, and accruing 21 Green Room Award nominations and two wins. Sonya has also been nominated for her performance work with Melbourne Theatre Company and Polyglot Theatre, her work as a director, and for the realisation of a digital documentary series. In 2021, she wrote, produced and performed in the pilot episode of The Quest, in collaboration with her son, Daniel. The part of her Polyglot work that she enjoys most is when kids enter the equation – that's the magic bit!
Close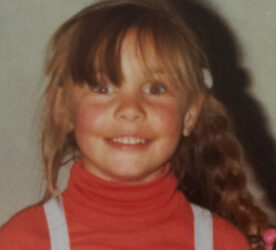 Tamara Rewse
Performing Artist, Workshop Facilitator
Tamara is a puppeteer and puppet maker who has worked on award-winning works for children with Windmill Theatre, Lemony S Puppet Theatre and object theatre troupe Men of Steel.
It gives her immense joy to work at Polyglot, embracing the chaos and order of play-based theatre. Tamara has had the great fortune of working with many kids over the years, and she feels that they are the best barometers of sincerity. This has contributed so much to the way she chooses to work.
As a Polyglot artist for over 10 years, Tamara has grown up with the company. Making Manguri Wiltja – the collaboration between Polygot, Tjanpi Desert Weavers and FORM – was one of the most memorable and affecting projects she has ever created.
Close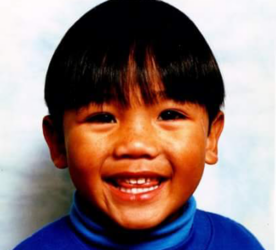 John Marc Desengano
Performing Artist, Workshop Facilitator
John Marc graduated from the University of Ballarat, Arts Academy in 2008. He performed for a Theatre in Education Company called Brainstorm Productions, touring to primary and high schools all over Australia.
Since 2011, John Marc has worked with theatre company, 15 Minutes from Anywhere. He developed a show called The Yellow Wave. It was part of the inaugural year of The Poppy Seed Festival and was nominated for a 2015 Green Room Award for most outstanding ensemble. It has had two return seasons, as well as a Regional Arts Victoria tour and was selected for the VCE Drama and Theatre Studies playlist in 2017.
John Marc's stage credits include: Love Bird, The Bachelor S17 E05, Survival, and many more. He also performed in The Dead Twin, written by Chi Vu, at the Georgetown Festival in Malaysia. His television credits include; Rush, Back in Very Small Business, Playing for Keeps, and others.
In 2015, John Marc completed a Masters of Primary Teaching from the University of Melbourne and now works as a casual relief teacher for various primary schools around Melbourne. He also works as a teaching artist at St. Martin's Youth Theatre and Western Edge Youth Arts. He is a proud company member of Impro Melbourne and Soothplayers: Completely Improvised Shakespeare.
Close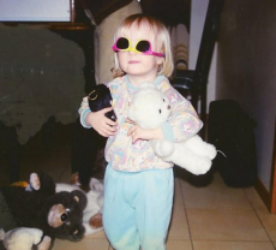 Briony Farrell
Performing Artist, Workshop Facilitator
As an artist, Briony finds great joy in knowing that each time she works for Polyglot, she is going to play. With children, their adults and the rest of the Polyglot team. And occasionally with her own shadow or the stuff she finds in her own recycling bin!
A career highlight was performing in Paper Planet at Western Autistic School in March 2021. She learnt so much about engaging neurodivergent participants in her creative practice, and will never forget the simple delight of spending thirty minutes with one young boy, eyes locked and laughing, ripping up paper into snowfall.

In 2020-2021, Briony co-created and performed in Polypropylene Dreams at ArtPlay through the New Ideas Lab. She has also worked for organisations including Arena Theatre Company, The Lost Lands Festival and The Starlight Children's Foundation.
Close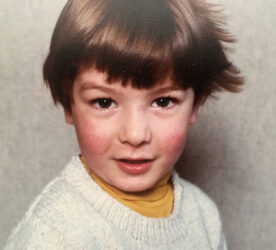 Nick Barlow
Performing Artist, Designer
Nick started working at Polyglot in 1998. His first job was keeping kids from running onto the stage during performances. Now, after more than 20 years, he's more likely to be inviting them into the show to play together.
Alongside his work with Polyglot, Nick has worked extensively as a physical performer, puppeteer, designer and animator with companies including Melinda Hetzel & Co, National Theatre of Great Britain and Cirque Du Soleil.
He has also created and performed his own work including participatory art event Lake, live-action puppet video game Nuku and live-streamed durational performance Conservatory.
Nick is passionate about play, and always inspired by children's ideas and creativity.
Close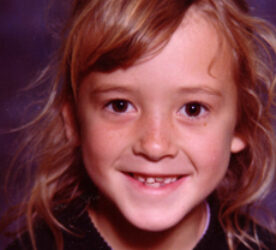 Tirese Ballard
Performing Artist, Workshop Facilitator
Tirese started with Polyglot in 1997 as a maker and designer. She has since relished creating with children and working with the company as a performing and teaching artist. Working collaboratively as an ensemble creating physical, playful, and visually striking work is of most interest to her. Touring nationally and internationally with Polyglot's Ants and Paper Planet are a highlight; and developing Bees has been the biggest buzz. Tirese also assists with training performers in Polyglot's Ants work as well as facilitating professional development workshops for adults. Other highlights include long-term relationship with physical theatre company Born In A Taxi; and recently developing the Postal Art Project, creating visual works with other multi-disciplinary artists across Melbourne and Victoria.
Close
Dr Mark Williams
Board Member
Mark is a solicitor in private practice with specific expertise in the arts, innovation and technology transfer. His clients include state and independent theatre, dance and arts companies and Her Majesty's Theatre, Melbourne. He has served on the boards of Arts Access Society Inc., Chandrabhanu's Bharatam Dance Company, Viscopy Limited, Currency House Inc., and The Green Room Awards Inc. where he was President from 2005 to 2010. Mark holds qualifications in law, arts and intellectual property law from the University of Melbourne and a DPhil in English dramaturgy from the University of Oxford (1990). He was an Adjunct Professor in the School of Art at RMIT University from 2009 – 2019.
Close
Sandra Robertson
Board Member
With over 25 years experience in fundraising for the not-for-profit sector, Sandra is Director of Fundraising and Marketing for Breast Cancer Network Australia and was previously Director of Development at Melbourne Recital Centre. She has held a grants management role in local government, was a consultant to a wide range of Australian arts organisations and has held development roles with the National Ballet of Canada and Australia Business Arts Foundation (AbaF). She was Deputy General Manager of the Melbourne Festival. Sandra has an honours business degree from the Richard Ivey School of Business, London (Canada) and a Masters of Marketing from Monash University. She is a graduate of Canada's National Ballet School. She is a Board member of the Australia Youth Orchestra and a former Board member of the Monash Gallery of Art and Grants Network Victoria.
Close
Geoffrey Renton
Board Member
Geoffrey is a Manager in the People & Culture team at PwC Australia. Prior to this, he was an HR Business Partner at Arts Centre Melbourne. Born a Kiwi, Geoffrey practiced as a solicitor in Auckland, including in commercial and employment law. But the creativity of Melbourne called. Geoffrey produced cabaret across Australia and New Zealand for a stint while also working front of house at Arts Centre Melbourne. He then moved into the People team, where he partnered with the business to achieve strategic objectives and drive change through high-level advice with a commercial and values-lead approach. He also negotiated their 2022 Enterprise Agreement. Geoffrey holds a Bachelor of Laws and Arts double degree (Senior Scholar in Arts) from the University of Auckland. He is admitted to the High Court of New Zealand and Supreme Court of Victoria. Geoffrey is a life-long learner with a commitment to a multidisciplinary approach, recently adding a certificate in Accounting. He proudly still works as a casual usher at Arts Centre Melbourne.
Close
Rasika Mohan
Board Member
Rasika is a multidisciplinary executive, bringing 18 years of experience delivering high impact initiatives within the public, private, and social sectors. She has worked across several industries including banking and financial services, information technology, roads and transport, automotive, small scale renewable energy, and international trade and development. With skills in strategy and business consulting, innovation and design thinking, transformation and change, and program management, she has applied these in diverse contexts and settings. She is currently focused on the integration of sustainability and ESG into corporate strategy and action. Having lived and worked in developed and emerging contexts in South Asia, South East Asia, the Pacific Islands, and with First Nation Peoples, she brings empathy for a range of different stakeholder sets and is driven by passion for inclusive, sustainable change. Rasika is currently serving start-ups in an advisory capacity in the areas of ESG, modern slavery and human rights, and science, technology, engineering and maths (STEM) in schools. She is Kalinga Fellow at the Bridge Institute – looking to tackle the issue of human trafficking using a systems thinking approaches. She is also a Board Observer with Multicultural Arts Victoria.
Close
Matthew Hall
Board Member
Matthew is the Chief Executive Officer of Arts Access Australia, the national peak body for arts and disability in Australia. He has deep and diverse experience in the Australian arts sector as well as 20 years of management experience in professional service firms. He has held senior leadership and executive management positions in national and international organisations, and led diverse teams in commercial and not-for-profit environments. Matthew has been Chair of the Brisbane Writers Festival and the Queensland Conservatorium, Griffith University, and a Board member of Queerscreen, the presenter of the Sydney Mardi Gras Film Festival. He also played a key role in setting up, and was an inaugural Bard member of, the Namatjira Legacy Trust working with family and community in Alice Springs. Matthew holds the degrees of Bachelor of Arts and Bachelor of Laws (with honours) and Master of Laws, and has completed postgraduate studies in management at the Harvard Business School. He brings to the Polyglot Board significant skills, as well as the perspective and experiences of a person living with disability.
Close
Jacob Boehme
Board Member
Jacob is a Melbourne born and raised artist of the Narangga and Kaurna Nations, South Australia. He is the founding Creative Director of YIRRAMBOI Festival and was the recipient of the 2018 Green Room Award for Curatorial Contribution to Contemporary and Experimental Arts.

Alumni of the Victorian College of the Arts, (MA in Arts – Playwriting, MA in Arts – Puppetry) Jacob is a multi-disciplinary theatre maker and choreographer, creating work for the stage, screen, large-scale public events and festivals. His critically acclaimed solo work Blood on the Dance Floor was the recipient of the 2017 Green Room Award – Best Independent Production. 

Jacob also sits on the Board of Directors for Dance House, and is a member of the Ministry of Culture Taiwan South East Asia Advisory Panel. He was the recipient of the 2018 Australia Council for the Arts Aboriginal and Torres Strait Islander Fellowship.
Close
Sandra Stoklossa
Treasurer
Sandra is an experienced finance professional with demonstrated success in senior finance roles. She is currently Head of Finance at Melbourne and Olympic Parks and has previously held senior roles at Chief Financial Officer at the Environment Protection Authority Victoria, Melbourne Recital Centre and Arts Centre Melbourne. These roles have provided varied experience across finance, strategy, governance, procurement, risk management, asset management and IT services. Prior to relocating to Australia in 2011, Sandra held various roles in the United Kingdom and Canada. She is currently serving as the Treasurer and Director on the Flinders Quartet Board and was the Treasurer on the Emerging Writers' Festival Board for more than four years.
Close
Sarah Hunt
Chair
Sarah is the Chief Executive Officer of The National Theatre Melbourne. As a Creative Industries freelancer, Sarah's work has included Director of Marketing and Development at Bangarra Dance, Theatre; Senior Marketing Consultant for Opera Australia and GFO; Marketing Consultant for the Adelaide Festival Centre, Cranlana Ethics Centre, and Art House Melbourne. Until 2018 Sarah was Arts Centre Melbourne's Executive, Development and Audience Engagement, leading the Development, Marketing, Communications and Visitor Experience teams. Before moving to Australia, Sarah was Director of Marketing, Communications, Ticket Sales and Retail at the National Theatre of Great Britain. Prior to that, Sarah held the positions of Head of Marketing, Development and Press at the UK's oldest working theatre, Bristol Old Vic; Marketing Director at the Donmar Warehouse; Marketing Manager at the Tricycle Theatre; and Marketing and Press Assistant for English Touring Opera. Sarah is also on the Board of Flinders Quartet.
Close
Sophie Overett
Administration and Operations Coordinator
With a love of storytelling in all its forms, Sophie is inspired by Polyglot every day, not just by the work the company produces, but by the passion of its core team, the innovation of its artists, and the generosity of its audiences. She believes in the power of the arts to create real and lasting connections to others and to the self, and loves getting to see that in action through her work.
Sophie joined the Polyglot team in 2019 and brought with her extensive experience in arts administration and coordination from Queensland Writers Centre and Brisbane Writers Festival. She also came with an eye for policy and procedure writing which she honed as a Document Writer at the Queensland Department of Education.

When she's not at Polyglot, Sophie is an author. Her debut novel, The Rabbits, was released with Penguin Random House in July 2021.

sophieoverett.com
Close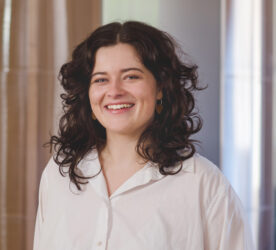 Freya McGrath
Assistant Producer
Freya is an early career producer and performance maker working across theatre, dance, and film. She is most interested in participatory movement work that brings people together and gets them exploring and connecting to the environment around them.
Freya attended the University of Melbourne, graduating in 2018 with a Bachelor of Arts (English and Theatre Studies). In that same year, she created and performed The 24 Hour Dance Project at Melbourne Fringe. From 2019-2020, she held the positions of Associate Producer at Bureau of Works and Assistant Producer at Kath Papas Productions.
Freya maintains an independent production portfolio collaborating with emerging and established artists. She is committed to forwarding discussions about safe practices and wellbeing within the arts industry.
Close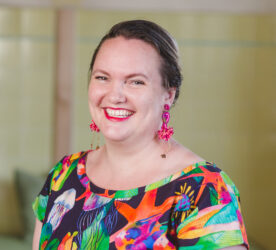 Erica Heller-Wagner
Marketing and Development Manager
An extroverted over-communicator who is passionate about collaboration and community, Erica feels lucky every single day to work at Polyglot.
She graduated from Charles Sturt University (Bathurst) with a Bachelor of Arts (Communication – Theatre/Media) and worked in Sydney in assorted production and front-of-house roles, before delving into marketing as the Communications Coordinator at PACT centre for emerging artists.
In 2012, Erica ran away to join Circus Oz in Melbourne as their Marketing and Communications Coordinator (she is still unable to do a cartwheel). She left to pursue an entirely different path but found herself back in the hotseat as the Marketing Consultant at Avant Card.
Erica has worked at Polyglot since July 2017. For her, both arts marketing and development are invitations. She is deeply interested in how we can welcome, support and empower more people to access and enjoy the party.
Neurodivergent, rescue dog parent, coffee drinker.
Close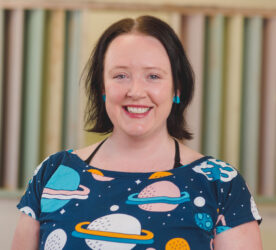 Lexie Wood
Project Manager
Lexie has over 20 years' experience working in mainstream and independent theatre productions, festivals, and events. In 2016, she graduated from Deakin University with a postgraduate certificate of Arts and Cultural Management
Previously, Lexie was the Front of House Manager at Arts House. She has toured with the Black Arm Band, worked with many local artists including Post and Antony Hamilton, and was also a Stage Manager for Melbourne Festival.
With Polyglot, Lexie works across a variety of projects which means that in any given week she could be in the office, visiting a school with artists for a creative development, loading a truck or bumping in a show. All of this brings her joy!
Lugging the Voice Lab dome around has become one of the great loves of her working life, as it is such a treat and a privilege to see the immediate impact the space has on kids.
Close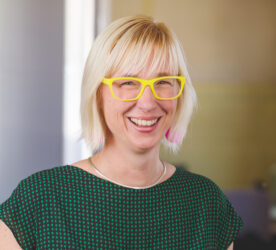 Rainbow Sweeny
Producer
Rainbow has worked in the performing arts and cultural sector for over 20 years. Her role at Polyglot is broad and varied, encompassing the delivery of an extensive touring repertoire, and steering the development and presentation of new work. Prior to her current role, she was a freelance production and tour manager for the company. She finds great joy in touring Polyglot's work to communities around the world, and on every occasion appreciates that although their cultures differ, children's love of creative play is universal.

Rainbow has collaborated with many of Melbourne's leading arts companies and festivals. She was a senior creative with Creature Technology Co. for six years and worked on Walking with Dinosaurs – The Live Experience, How To Train Your Dragon – The Arena Spectacular and King Kong – Live On Stage.

Rainbow is also an accomplished designer, achieving several Green Room Award nominations and wins. She is a graduate of the Victorian College of the Arts (Production).
Close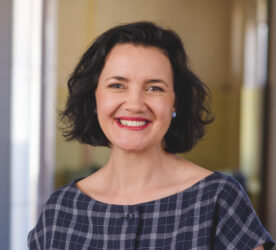 Katherine Fyffe
Executive Director and co-CEO
Kath finds immense joy in leading the team at Polyglot alongside Sue. After three years as Polyglot's General Manager, she was honoured to take on the role of Executive Director and co-CEO at the end of 2020, and loves seeing the company go from strength to strength.
Kath has worked in a variety of arts management roles, most recently as Executive Producer at Shaun Parker & Company, following roles at Melbourne Festival and Theatre Network Australia. For 13 years she co-led Adelaide's experimental theatre collective The Border Project, as a manager, and as an artist creating and performing in many works.
Much of her work takes place in the office, but spending time with artists and seeing children interact with Polyglot's work is her favourite part of the job.
Kath trained as an actor at Flinders University, and often works on creative projects. Most recently she was writer and co-creator of Beep for Windmill Performing Arts, which has now been turned into a children's television series for the ABC called Beep & Mort.
Close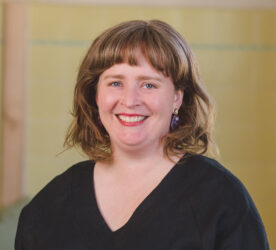 Lucy Day
Business Manager
Lucy is an experienced arts administrator and producer, having worked previously at Melbourne Fringe, Melbourne Festival, Arts Centre Melbourne and Dark Mofo, along with varied freelance and contract roles. Well-versed in festivals, touring, and independent production, she is passionate about supporting both established and up-and-coming arts organisations and artists to produce exceptional work and develop sustainable business practices.
Polyglot's commitment to creating a caring and joyful culture for staff, artists and audiences brings Lucy great joy. Through her work with the company, she has gained a greater understanding and appreciation for how discerning children are as an audience.
Close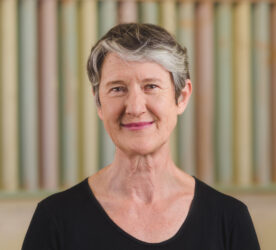 Sue Giles AM
Artistic Director and co-CEO
Sue has worked as the Artistic Director since 2000, and her life changed when she walked through the Polyglot door on a cold winter's day in July. Since then, she has flung herself into the joyous, chaotic, thoughtful and surprising world of children as audiences and as co-creators, extending her career experience as an actor, writer and director into the rich and ever-changing world of theatre for young audiences.

Sue has been able to follow a particular path of participation with Polyglot, broadening ideas of what theatre can be, how play can re-imagine performance, how the benefits of fun are underestimated and how children can change the world with their instincts, voices, bodies, energy and opinions.

Sue has had many highlights at Polyglot – the unexpected artistic discoveries, the collaborations that turn into friendships, the passion and courage of her colleagues, and the way people fall in love with the infinitely satisfying work of making art with and for children.

She is an advocate for the sector in Australia as a Board member of Theatre Network Australia, and internationally as President of ASSITEJ International – the global association of theatre for young audiences. In 2018, Sue received the Green Room Lifetime Achievement Award for her work in the Australian arts industry, and authored a Platform Paper for Currency Press titled Young People And The Arts: Agenda for Change. In 2019, she received a Theatre Fellowship from the Australia Council for the Arts for her work in advocacy, and she was appointed Member of the Order of Australia (AM) for her significant service to the performing arts as an artistic director, and to theatre for children.