Show
Bees
Bees is a joyful interactive work in which children are welcomed into a world of community, communication, wonder and imagination.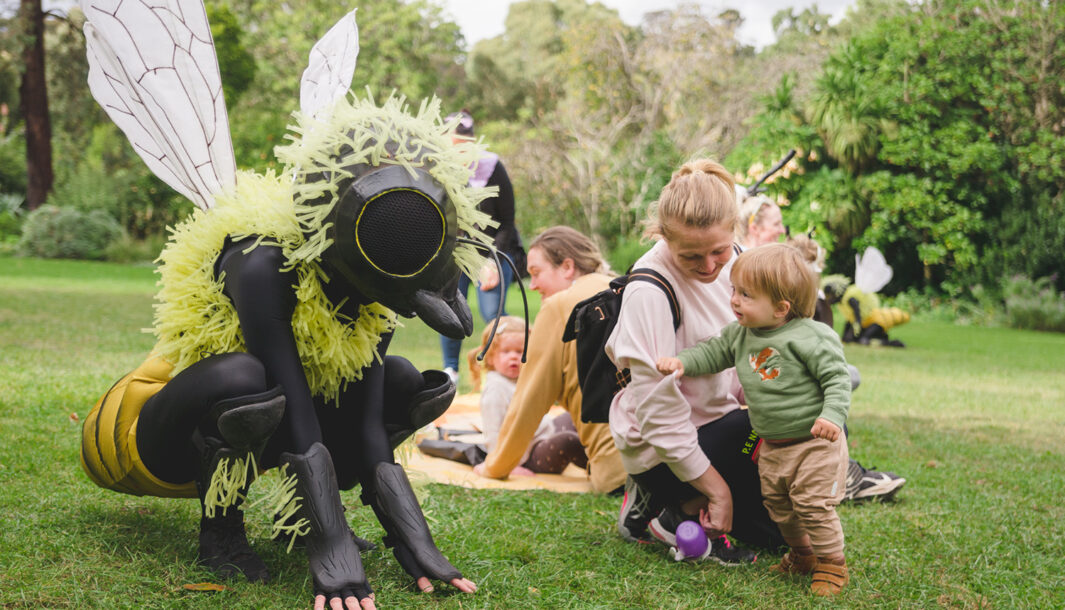 Explore a buzzing, humming hive of activity, as three human-sized Bees busy themselves in the creation of a community alongside children who transform into bees as they play. The bees are fascinating, strange and beautiful, traversing invisible pathways and mapping delicate patterns across the performance space.

Inspired by the mysterious life and work of bees, this re-imagining of public space involves the slow uncovering of an intricate unseen world. Children are immersed in the sounds, shapes and scents of the bee world, from their familiar buzz to honeycomb houses. Bees uses ritual, non-verbal communication and the secret world of bee movement to provide a range of access points for children to participate.
Acknowledgements
Bees was developed through The Generator, with support from the Victorian Government through Creative Victoria, and the Sidney Myer Fund.

Accessibility
Bees

is a universally accessible experience. The performers do not use spoken language – there is no English language barrier. 

Children and families choose how they engage with the performers and the space, moving around as they like.
Watch the trailer
Contact
Got a question about Bees?
Other shows
Find a Polyglot show for your venue, festival or event.
Explore shows