October 22 - October 23 2022
Pram People at Melbourne Fringe
A moment in time for children who ride in prams, and the adults who push them.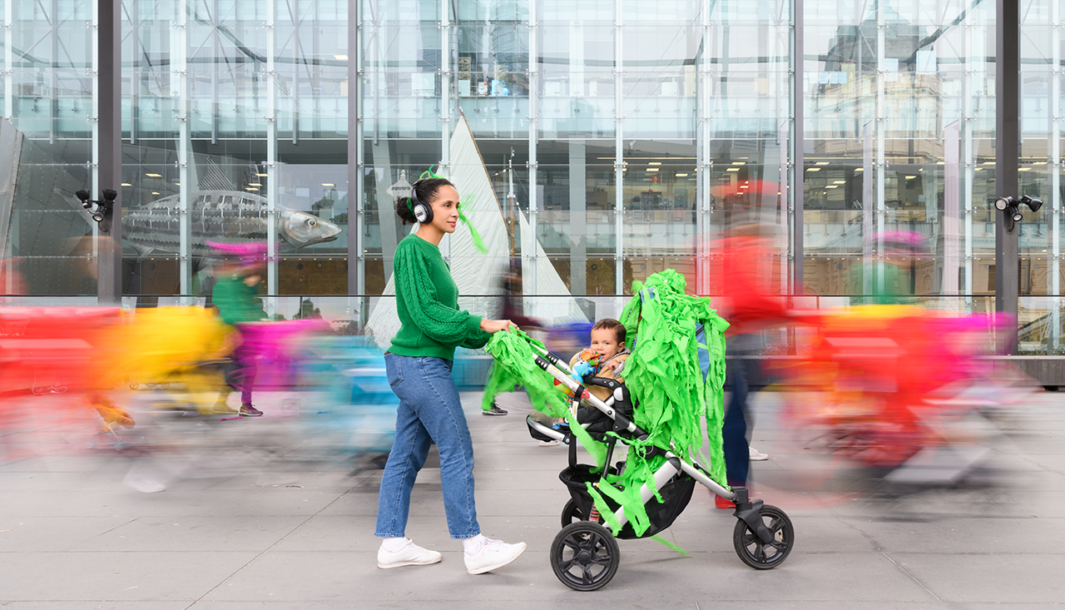 Presented by Melbourne Fringe and Melbourne Museum
A celebration of community, Pram People rolls out the red carpet for every pram, big or small.
Pram users will assemble en masse, following curious and wonderful prompts through headphones, secret messages and even other participants. Performers will delight and intrigue, adding to the fun as families weave amongst and around each other.
As part of the Melbourne Fringe XS program, Pram People offers a playful and welcoming approach to community participation through joyful movement and connection, using the most universal of vehicles – the pram. Hilarious, serious and surprisingly moving, this immersive, colourful spectacle will activate the Melbourne Museum forecourt, and reclaim the pram as an asset to public space and society as a whole.
Session times & ticketing
Saturday 22 October
10.00am-11.00am
1.30pm-2.30pm
Sunday 23 October
10.00am-11.00am
1.30pm-2.30pm
Ticketing
Pram People is free, but bookings are essential (via the Melbourne Fringe website). A ticket includes 1 adult, the pram they push or the wheelchair they use, and the child who rides in the pram or on their lap.
You can also book an additional child under 4 years old.
Other family members are welcome to attend as observers, and watch the colourful spectacle unfold.
General Access
Adult participants (those who book in) will be given headphones to wear during the experience.
Pram People will take place outdoors on the Melbourne Museum Forecourt. Please check the weather and bring sunscreen, hats and water.
Wheelchair accessible bathrooms and baby change facilities are available on the ground floor of the Museum.
Water fountains (for re-filling bottles) are available near the Museum entrance.
A quiet space is available for families who need a break from sensory stimulation.
We welcome anyone interested to attend as observers, and watch the colourful spectacle unfold.
Visual story coming soon.
Family Access
Prams are an important part of the Pram People. All sizes and types are welcome!
Pram People is wheelchair accessible.
Pram People celebrates the people who use prams. Participants can step out of the 60-minute experience at any time to take a break, feed their children or change a nappy.
Getting There
Parking
The closest parking is in the Melbourne Museum Car Park. It is open 7 days a week from 5.30am to midnight daily. Enter via Rathdowne Street or Nicholson Street.
There is designated disabled parking available on level P2, adjacent to the lifts.
$20 flat rate for weekend parking.
Book online: carpark.museumvictoria.com.au
Public Transport
Tram: Stop #11 Melbourne Museum/Nicholson Street is serviced by tram routes 86 and 96. This stop has: lighting, tactile ground surface indicator, an accessible ramp. It is approximately 150m from the Museum.
Bus: routes 250, 251, and 402 stop at Melbourne Museum/Rathdowne Street. This stop has: lighting and tactile ground surface indicator. It is approximately 50m from the Museum.
Train: Parliament Station is approximately 600m from the Museum. This station has: lighting, escalator, hearing loop, lift, stairs, actile ground surface indicator, accessible telephone, accessible toilet.
Bicycle
Local bicycle facilities include bike lanes on Rathdowne St and Canning St. There is also a shared pedestrian/bike path on Nicholson St.
Bicycle racks on the Plaza provide ample bike parking just outside the front door.
Acknowledgements
The premiere season of Pram People is presented by Melbourne Fringe and Melbourne Museum.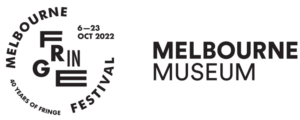 Pram People is supported by the Restart Investment to Sustain and Expand (RISE) Fund – an Australian Government initiative, and the City of Melbourne through the Arts and Creative Investment Partnership fund and ArtPlay.

Contact
Got a question about Pram People at Melbourne Fringe?