April 21 - April 23 2022
Bees at King George Gardens (Wangaratta)
Bees is a joyful interactive work in which children are welcomed into a world of community, communication, wonder and imagination.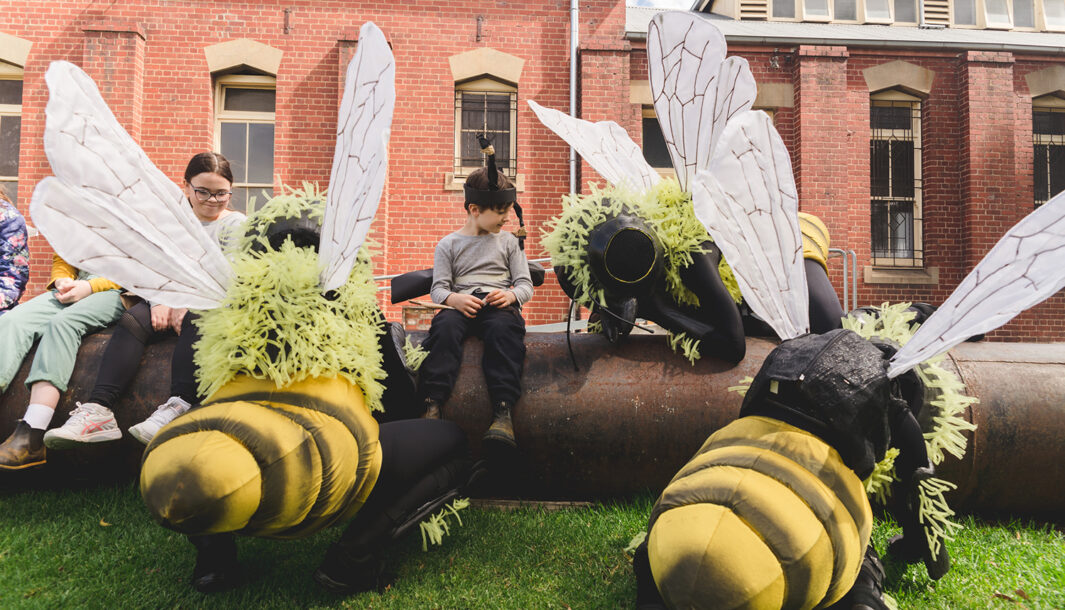 Presented by Rural City of Wangaratta
Explore a buzzing, humming hive of activity, as three human-sized Bees busy themselves in the creation of a community alongside children who transform into bees as they play. The bees are fascinating, strange and beautiful, traversing invisible pathways and mapping delicate patterns across the performance space.
Inspired by the mysterious life and work of bees, this re-imagining of public space involves the slow uncovering of an intricate unseen world. Children are immersed in the sounds, shapes and scents of the bee world, from their familiar buzz to honeycomb houses and vibrant pollen. Bees uses ritual, non-verbal communication and the secret world of bee movement to provide a range of access points for children to participate.
Please note: non-toxic, colourful, powder will be used during Bees, and audiences choose whether they touch it. Small amounts will wash out.
Acknowledgements
This season is possible with funding from the Victorian Government's COVIDSafe Outdoor Activation Fund 2021.
Bees was developed through Polyglot's Generator program, with support from the Victorian Government through Creative Victoria, and the Sidney Myer Fund.


General Access
Bees will take place outdoors, on grass. Please check the weather and bring sunscreen, hats and water bottles.
The King George V Garden Public Toilets are wheelchair accessible.
While there is no reserved/specific quiet space, children and families can leave Bees at any time to have a break, and return either within the session or come to another session.
Bees
Children and families choose how they interact with the performers and the landscape. Some participants may prefer a gentle experience, others may be more energetic.
Bees will take place outdoors in daylight. There will be no bright or flashing lights.
Bees contains amplified sound and music that is played through portable speakers.
Family Access
Prams are welcome at Bees. Prams can be parked alongside the performance space.
Water, infants' bottles and breastfeeding/chestfeeding are welcome, but we do ask that there is no eating in the Bees performance space where possible.
You are also welcome to BYO food and drinks to King George V Gardens for picnicking before or after Bees.
Getting There
Public Transport
The closest bus stop is Ovens St/Rowan St, which is serviced by routes 401 and 403.
Watch the trailer
Contact
Got a question about Bees at King George Gardens (Wangaratta)?