July 21 - July 23 2022
Bees at BorderLight Festival (USA)
Bees is a joyful interactive work in which children are welcomed into a world of community, communication, wonder and imagination.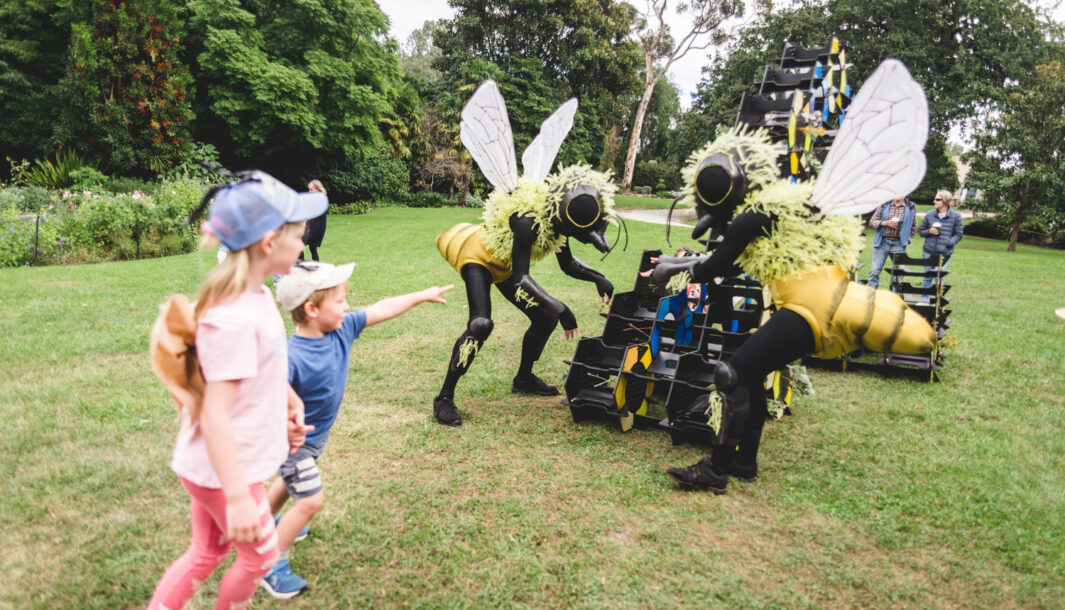 Explore a buzzing, humming hive of activity, as three human-sized Bees busy themselves in the creation of a community alongside children who transform into bees as they play. The bees are fascinating, strange and beautiful, traversing invisible pathways and mapping delicate patterns across the performance space.
Inspired by the mysterious life and work of bees, this re-imagining of public space involves the slow uncovering of an intricate unseen world. Children are immersed in the sounds, shapes and scents of the bee world, from their familiar buzz to honeycomb houses. Bees uses ritual, non-verbal communication and the secret world of bee movement to provide a range of access points for children to participate.
Acknowledgements
Bees is presented by BorderLight International Theatre + Fringe Festival, with generous support from Cleveland Public Library. Polyglot is working in partnership with Inlet Dance Theatre to deliver this season.
Bees was developed through Polyglot's Generator program, with support from the Victorian Government through Creative Victoria, and the Sidney Myer Fund.

Venues & Session Times
Eastman Reading Garden
Cleveland Public Library
325 Superior Avenue
Cleveland, OH 44114
Find it on Google Maps
Thursday 21 July
3pm, 4pm
Friday 22 July
4pm, 5pm, 7pm, 8pm
Saturday 23 July
12.30pm, 1.30pm, 4pm, 6pm
General Access
Bees will take place outdoors, on grass. Please check the weather and bring sunscreen, hats and water bottles.
More access details coming soon.
Bees
Children and families choose how they interact with the performers and the landscape. Some participants may prefer a gentle experience, others may be more energetic.
Bees will take place outdoors in daylight. There will be no bright or flashing lights.
Bees contains amplified sound and music that is played through portable speakers.
Family Access
Strollers are welcome at Bees. Strollers can be parked alongside the performance space.
Water, infants' bottles and breastfeeding/chestfeeding are welcome, but we do ask that there is no eating in the Bees performance space where possible.
BorderLight 2022
Welcome back! It is with great pride that we build our 2022 Festival to illuminate the borders that divide us and foster reciprocal connections between Cleveland and the global community, especially as we move out of this period of isolation. After the last two years, we all deserve a jolt from the normal, and artists deserve a platform for their work. BorderLight will remain anchored in downtown Cleveland, in venues from Playhouse Square to Public Square, making the festival accessible to visitors from across the city and beyond. We will be thoughtful as we plan our 2022 Festival to make sure the safety of our patrons, artists, staff, and volunteers is foremost.
Watch the trailer
Contact
Got a question about Bees at BorderLight Festival (USA)?