September 22 - October 02 2022
Bees at Charlotte International Arts Festival (USA)
Bees is a joyful interactive work in which children are welcomed into a world of community, communication, wonder and imagination.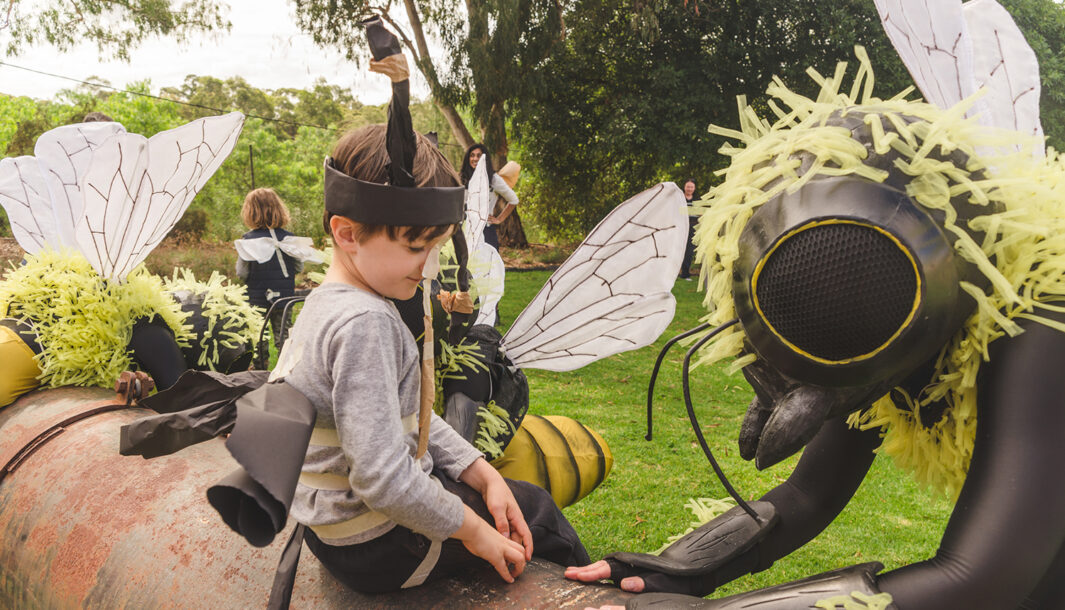 Explore a buzzing, humming hive of activity, as three human-sized Bees busy themselves in the creation of a community alongside children who transform into bees as they play. The bees are fascinating, strange and beautiful, traversing invisible pathways and mapping delicate patterns across the performance space.
Inspired by the mysterious life and work of bees, this re-imagining of public space involves the slow uncovering of an intricate unseen world. Children are immersed in the sounds, shapes and scents of the bee world, from their familiar buzz to honeycomb houses. Bees uses ritual, non-verbal communication and the secret world of bee movement to provide a range of access points for children to participate.
Polyglot Theatre is working in partnership with Inlet Dance Theatre to deliver this season.
Acknowledgements
Bees was developed through Polyglot's Generator program, with support from the Victorian Government through Creative Victoria, and the Sidney Myer Fund.

Venue
Romare Bearden Park
300 S Church St
Charlotte, North Carolina, 28202

Find on Google Maps
General Access
Bees will take place outdoors. Please check the weather and bring sunscreen, hats and water bottles.
Bees
Children and families choose how they interact with the performers and the landscape. Some participants may prefer a gentle experience, others may be more energetic.
Bees will take place outdoors in daylight. There will be no bright or flashing lights.
Bees contains amplified sound and music that is played through portable speakers.
Family Access
Strollers are welcome at Bees. Strollers can be parked alongside the performance space.
Water, infants' bottles and breastfeeding/chestfeeding are welcome, but we do ask that there is no eating in the Bees performance space where possible.
Charlotte International Arts Festival
Charlotte International Arts Festival is an annual celebration which magnifies the Queen City's artistic soul for creation and innovation. The inspiring multi-week festival features curated artistic and immersive experiences from around the world and locally that celebrate diversity and culture. 
C.I.A.F. expands the artistic identity of Charlotte and surrounding areas by transforming Uptown and Ballantyne into centers of imagination that celebrate a spirit of playfulness by bringing together artists from around the globe and around the corner through both visual and performing arts.
Fun for everyone, from families to individuals, we invite you to participate in imaginative arts' experiences throughout our city over the course of 17 days. We invite you to stay awhile, play, and welcome curiosity, as we begin to see our city through new eyes. With over 200 attractions, many for free, this festival has something for everyone. 
Presented by Blumenthal Performing Arts
Watch the trailer
Contact
Got a question about Bees at Charlotte International Arts Festival (USA)?