March 05 2022
Pram People at ArtPlay
Help us create a show about being a pram user! The Saturday workshop is for pairs of one pram user and one pram pusher, with up to two other siblings or family members also welcome to attend.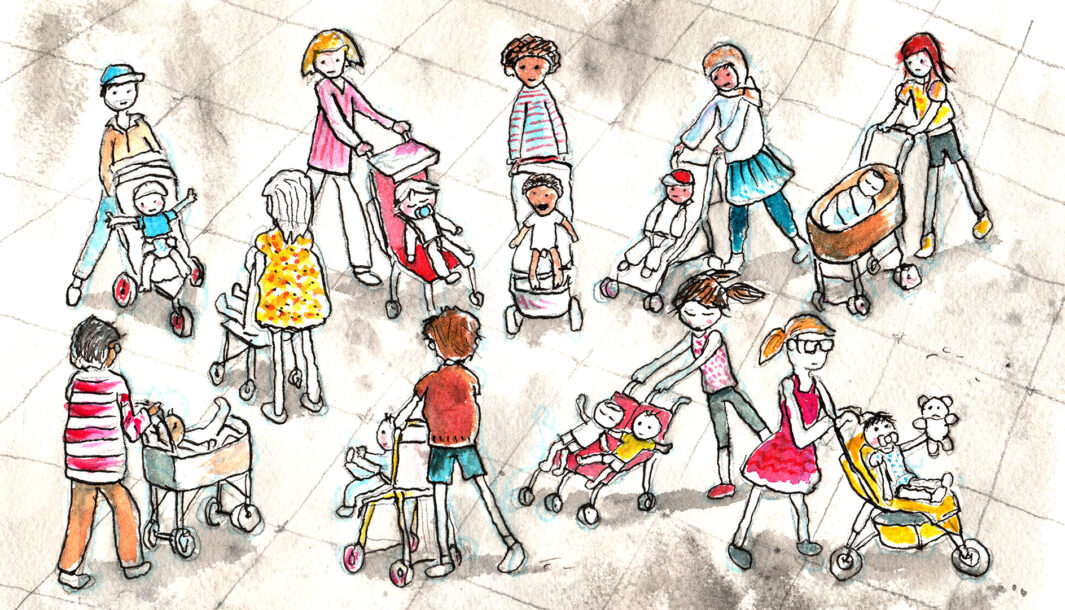 Polyglot Theatre invites pram users – parents/carers and their babies and children who ride in prams – to help make a new interactive show, Pram People.
You'll have the opportunity to collaborate with Polyglot artists and other families to create fun, interesting choreography and movement patterns for groups of people pushing prams, test out ways to receive instructions to make patterns, look for beauty in everyday logistics, and provide feedback about your family's experience as pram users.
In this workshop at ArtPlay the following ideas will be explored:
What is the advantage of using a pram?
What are the challenges?
As a pram user, do you feel part of a community?
What does a group of prams evoke when observed in a public space?
With the finished show, Polyglot hopes to offer a playful and accessible approach to community participation through joyful movement, using the most universal of vehicles – the pram. Hilarious, serious and moving, Pram People will activate public spaces, reclaiming the pram as an asset to public art, rather than a liability.
Please note:
Please bring your pram (any size or type accepted).
The Saturday workshop is for one pram user and pram pusher pair, with up to two other siblings or family members also welcome to attend.
These sessions will be held indoors and outdoors. If there is inclement weather, they will be moved completely indoors.
Acknowledgements
The development of Pram People is supported by the Restart Investment to Sustain and Expand (RISE) Fund – an Australian Government initiative, and the City of Melbourne through the Arts and Creative Investment Partnership fund and ArtPlay.

ArtPlay
ArtPlay brings together children (from babies to 13 years of age) and artists to explore and create innovative arts experiences that encourage self-expression and playful exchange. 

ArtPlay offers creative encounters that are by, for and with children and can be experienced at ArtPlay or in your own home.
General Access
The Pram People sessions will take place indoors in the Main Space, and outdoors, on the large flat area in front of the orange ArtPlay doors. Please check the weather and bring sunscreen, hats and water. In the case of bad weather, the sessions will be moved entirely inside.
The ArtPlay building is wheelchair accessible, with wheelchair accessible entrances and bathrooms. These are open at all times while the building is open.
All bathrooms in the ArtPlay building are all-gender and individual cubicles.
Once everyone moves outside, the Main Space will be available as a safe, quiet, area for children and families needing time out from sensory stimulation. The Main Space is wheelchair accessible.
There is no ATM at ArtPlay.
These sessions will not include any bright or flashing lights. There may be some amplified sound, as we explore how to share instructions.
Polyglot Theatre and ArtPlay staff are trained in disability and cultural awareness.
To help us prepare for your participation, please let ArtPlay know if you have a medical condition or allergies that we should be made aware of in advance, or if you have any access requirements or questions. Please contact ArtPlay via artplay@melbourne.vic.gov.au
COVID-safety
The following COVID-safety measures are in place to ensure that everyone can have fun safely.
Proof of COVID vaccination or appropriate medical exemption will be required for all Pram People attendees aged over 18 years.
All Pram People attendees will be asked to check in on arrival.
You will need to pre-book to attend Pram People.
Within the sessions, density quotas will be maintained.
Family Access
Baby change facilities are available at ArtPlay. These are wheelchair accessible, and accessible by parents of any gender.
Prams are an important part of the Pram People All sizes and types are welcome!
Water, breastfeeding/chestfeeding and infant's bottles are welcome during the sessions, however we do ask that there is no eating (where possible) in Pram People.
ArtPlay has a free water fountain available for refilling bottles.
Getting There
Parking
The closest parking (including disabled parking) is in the Federation Street Car Park (Wilson Parking). To get to ArtPlay from the car park, take the lift or stairs down to the ground level and exit through the door facing out to the playground. Cross over the playground; ArtPlay is the red brick building next to it. For more information about rates and to book parking, please visit: wilsonparking.com.au/park/3250_Federation-Square-Car-Park
Public Transport
Flinders Street Station (train) is wheelchair accessible and has escalators, lifts, a hearing loop and info screens. For the Metro Trains Access Guide, please visit metrotrains.com.au/station-accessibility-features
Federation Square/Swanston St #13, Stop ID 19499 (tram) is a level access stop, but not all routes that use this stop are currently serviced by low-floor trams. For more information about this stop, visit ptv.vic.gov.au/stop/2204/federation-squareswanston-st-13/1/tram
To get to ArtPlay from the train station or tram stop, cross over Swanston Street towards Fed Square and follow the river along Princes Walk until you see the playground on the left-hand side. ArtPlay is the red brick building next to the playground.
Contact
Got a question about Pram People at ArtPlay?