March 20 2022
Boats at Children's Week Picnic
Children and families are invited to re-imagine the Great Lawn at Werribee Park as a wide-open ocean, dotted with islands and full of nautical adventure!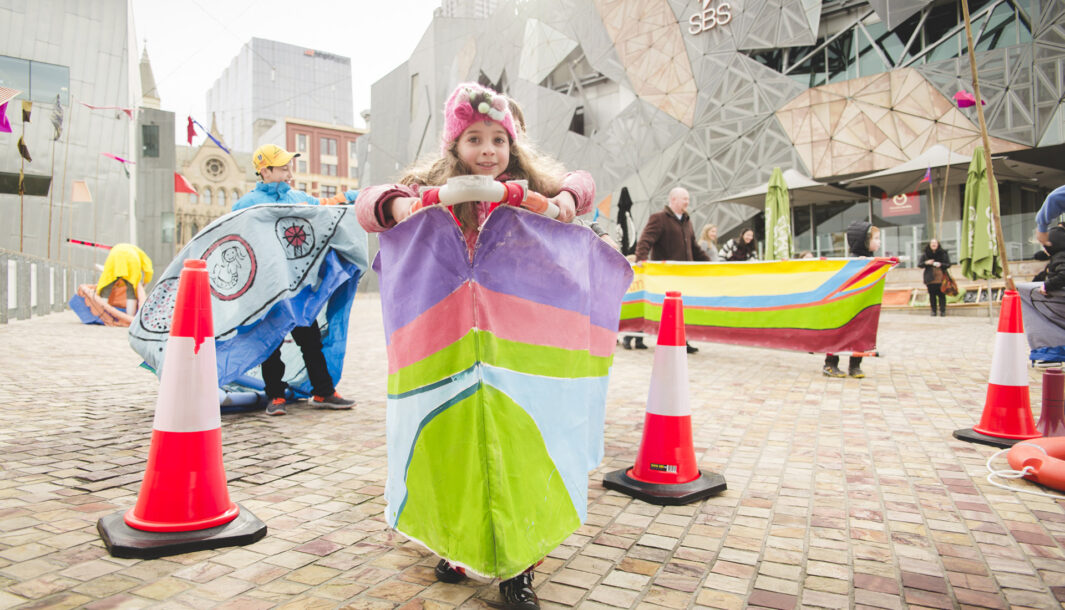 Did you attend Boats? Share your feedback and go in the running to win a $50 Robinsons Bookshop voucher! surveymonkey.com/r/boats-cwp
For Children's Week Picnic, Wyndham City presents Polyglot Theatre's Boats… bigger and more buoyant than ever before. Boats engages children and their families in accessible play that re-imagines familiar space into something wild, unpredictable and fun.
You will find Boats in the strangest of places – on dry land! Children and their families use their imaginations and small colourful boats to go on exciting, sea-faring adventures across the wide-open lawns of Werribee Park. There are islands to visit, stranded crew members to rescue, castaways and seagulls. There are times you might need to dodge sharks and steer through choppy water to safety.
Boats is an energetic experience that can absorb children from 10 minutes to hours and hours. Some may wish to rock in calm waters and tell adventure stories; others may wish to zoom around and explore. Children choose how they interact with the Harbourmaster, the crew and the landscape, making this a fun, shared family time that everyone can enjoy.
At Boats, children and their families can come and go as they please. The crew will keep watch for sailors who may need assistance. Boatsat the Wyndham Children's Week Picnic will feature an astonishing 48 boats – more fun for everyone.
Children's Week Picnic
Children's Week Picnic is finally back, and we can't wait to see you all for the greatest family outdoor event in the West!
This much-loved free Wyndham City event will be held on Sunday 20 March at Werribee Park after being postponed from October 2021 due to ongoing restrictions. Featuring a range of interactive activities with a focus on education and learning, Children's Week Picnic provides an opportunity for children to explore new experiences.
Entry is free, however a pre-booked ticket is required. Free tickets will be available to book from Tuesday 1 March from 9am at wyndham.vic.gov.au/childrensweekpicnic
General Access
Boats will take place outdoors, on grass. Please check the weather and bring sunscreen, hats and water bottles.
Event toilet facilities, including accessible toilets, are located near the lake within the Children's Week Picnic site.
Children's Week Picnic has a Chill Out Zone for children and parents who need time away from the hustle and bustle of the event. This area is being hosted by Plan Partners and Mable and will have quiet sensory activities available.
Parks Victoria has created a video about access at Werribee Park.
Boats
Boats is an energetic experience. Children and families choose how they interact with the performers and the landscape.
Boats will take place outdoors in daylight. There will be no bright or flashing lights.
Boats does not use amplified sound or music, but there may be noise from participants, performers, and other Children's Week Picnic activities nearby.
Polyglot artists will keep watch for any sailors who may need assistance.
COVID-safety
The following COVID-safety measures are in place to ensure that everyone can have fun safely.
Proof of COVID vaccination or appropriate medical exemption will be required for all Children's Week Picnic attendees aged over 18 years.
All Children's Week Picnic attendees will be asked to check in on arrival.
You will need to pre-book a ticket to attend Children's Week Picnic.
Within the Boats performance space, density quotas will be maintained, with a limit of 90 people in the space at any one time.
Hand sanitiser will be provided.
Family Access
Prams are welcome at Children's Week Picnic. The paths are gravel and there are large grassed areas. Pram parking will be available alongside the Boats performance space for participating families.
There is a baby change facility in the accessible toilet, and a baby change and feeding marquee will be available for Children's Week Picnic. Please check with staff on the day for the location.
Water, infants' bottles and breastfeeding/chestfeeding are fine, but we do ask that there is no eating in the Boats performance space where possible.
You are welcome to BYO food and drinks to Children's Week Picnic. There will be also be a variety of food trucks providing various sweet, savoury and drinks (including children's options and dietary) for purchase onsite. Cashless payments are recommended wherever possible, however there will be an ATM onsite.
Getting there
Parking
Address: Gate 2, K Road, Werribee, VIC 3030.
Werribee Park is located 35km from Melbourne CBD..
A paddock is used for Children's Week Picnic parking – please follow signage. It is approximately 500m from this area to the Great Lawn.
Accessible parking is provided outside the Victoria State Rose Garden. It is 300m from the Great Lawn.
Public Transport
Take the Werribee line train to Werribee Station, then take bus route #439 or the FREE Children's Week Picnic shuttle bus to Werribee Park.
For more information about facilities and access at Werribee Station, please visit ptv.vic.gov.au/stop/1205/werribee-station
For more information about the free event shuttle, please check the Wyndham City website closer to the event.
Bus route #439 is operated by CDC Victoria. All of their buses are low floor and fully accessible. For further detailed accessibility information about CDC Victoria buses, please visit cdcvictoria.com.au/accessibility
You can also get to Werribee Park by bicycle by following the Werribee River Park trail to Werribee Park.
Watch the trailer
Contact
Got a question about Boats at Children's Week Picnic?