April 23 - April 24 2022
Ants at Without Walls Festival (USA)
Ants is an interactive performance which has giant Ants bringing children together in an unusual landscaping project.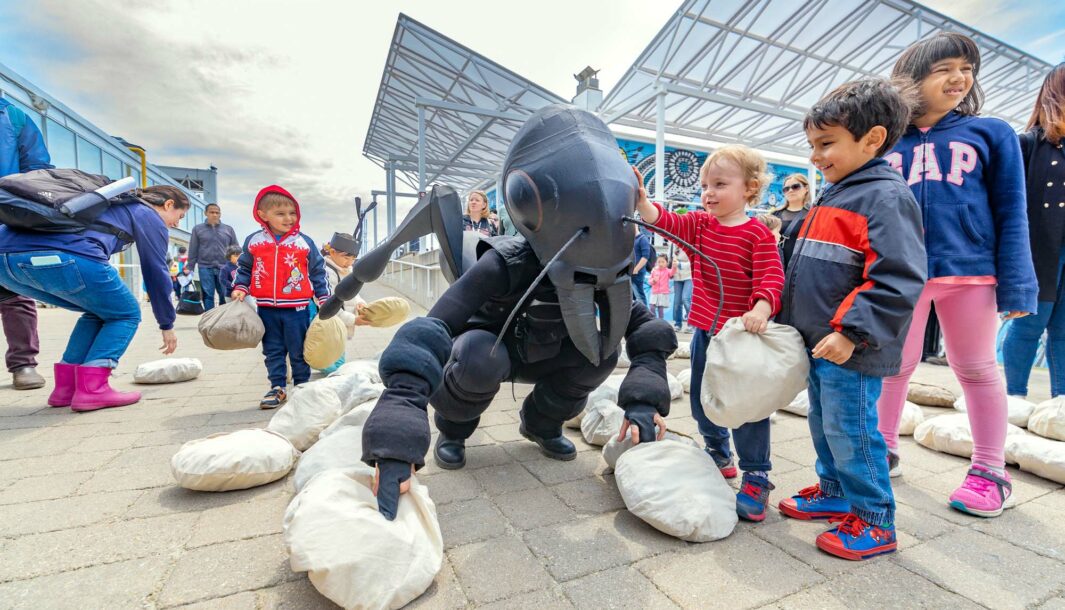 Presented by La Jolla Playhouse's 2022 Without Walls Festival
Ants is an interactive performance which has giant Ants bringing children together in an unusual landscaping project. Faced with three big insects and hundreds of giant breadcrumbs, children are irresistibly drawn in and must figure out what the Ants want them to do. Gradually, a world of meaning unfolds, illustrating the human desire for order by transforming any public space with lines and patterns. Ants is an enchanting investigation into the nature of work and children's relationship with their environment.
Without Walls (WOW)
Without Walls (WOW) productions offer a dizzying array of interactive and site-inspired theatre. Full of diverse offerings, WOW shows have one thing in common – they are an invitation to reimagine what theatre can be through intriguing and playful experiences.
WOW performances take place outside the confines of a traditional theatre, in unusual or unexpected locations. Past shows have occurred in the backseat of a car, on a basketball court and even emerging from the ocean at a local beach. WOW audiences can expect to be part of the action. You might find yourself in the middle of an impromptu dance party or taking a stroll through a lush botanical garden as your WOW experience unfolds.
Since its inception, Without Walls has become one of San Diego's most popular and acclaimed performance series, delighting critics and audiences alike.
General Access
Ants will take place outdoors, on grass, at the Hub, North Promenade. Please check the weather and bring sunscreen, hats and water bottles.
The closest public bathrooms are in Barracks #16. They are wheelchair accessible and ADA compliant.
While there is no reserved/specific quiet space, children and families can leave Ants at any time to have a break and return either within the session or come to another session.
For any access enquiries at Without Walls Festival 2022, please contact: boxoffice@ljp.org
Ants
Children and families choose how they interact with the performers and the landscape.
Ants will take place outdoors in daylight. There will be no bright or flashing lights.
Ants contains some amplified sound that is played through portable speakers.
Family Access
The closest baby change facilities are in Liberty Public Market.
Water, infants' bottles and breastfeeding/chestfeeding are welcome, but we do ask that there is no eating in the Ants performance space where possible.
For more information about where to purchase refreshments nearby, please visit libertystation.com/directory/eat
Strollers can be parked alongside the performance space.
Getting There
Parking: There is ample free public parking on Historic Decatur Road
Public transport: The closest bus stop is Rosecrans and Curtis Street.
Acknowledgements
For this engagement, Polyglot Theatre is working in partnership with Inlet Dance Theatre to deliver Ants.
This is Polyglot's third season at Without Walls. Boats was presented in 2019, and We Built This City was presented in 2013.
Watch the trailer
Contact
Got a question about Ants at Without Walls Festival (USA)?